PDF to Video
PDF to Video

rappresenta la soluzione migliore per convertire e trasformare documenti PDF in filmati veri e proprio. Tale conversione è ideale se si vuole mostrare una presentazione PDF su computer o dispositivi mobili dove non è presente un PDF Viewer.
I file PDF vengono convertiti in formato video

MPEG, AVI o WMV

.
In alternativa è possibile creare un file .exe auto eseguibile da masterizzare su CD. I file video creati possono essere riprodotti su DVD video player o su computers. La procedura guidata (Wizard) ti aiuterà passo dopo passo nel processo di conversione.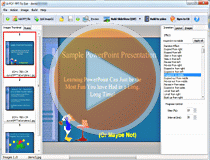 $39
Come convertire PDF in Video
Nell'immagine sotto è descritto brevemente il processo di conversione da PDF in Video.
Ecco i 3 STEP:
1) Caricamento del file PDF da convertire in video
2) Scelta del disegno e modello della presentazione
3) Conversione e creazione del video o del file .exe (auto-eseguibile) o del CD ROM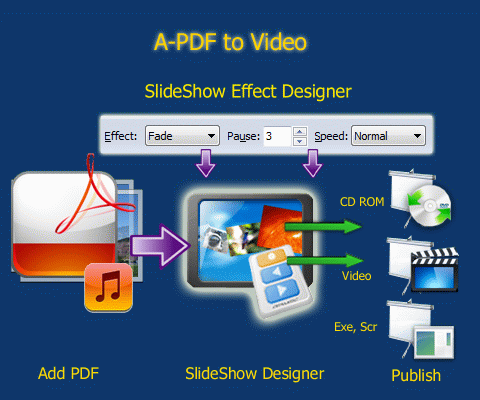 Screenshot del programma: