Se ti trovi in questa pagina molto probabilmente cerchi la soluzione migliore per convertire e trasformare documenti PDF in filmati veri e proprio. Tale conversione è ideale se si vuole mostrare una presentazione PDF su computer o dispositivi mobili dove non è presente un PDF Viewer.
I file PDF possono essere convertiti in formato video

MPEG, AVI o WMV

.
In alternativa è possibile creare un file .exe auto eseguibile da masterizzare su CD. I file video creati possono essere riprodotti su DVD video player o su computers. Leggi qui di seguito i passi da seguire per convertire PDF in VIDEO.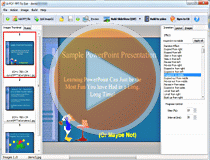 $39
Come convertire PDF in Video
Ecco un breve video tutorial che spiega l'uso del software PDF to VIDEO:
PDF TO VIDEO è scaricabile gratuitamente dal sito
PDFTOVIDEO.COM
Metodo alternativo per convertire un documento PDF in Video è quello che prevede di seguire due passaggi:
STEP 1. Convertire PDF in Immagini
Ogni pagina del documento PDF può essere trasformato e salvato in un file immagine usando un programma come PDF Converter. Puoi facilmente fare tale conversione seguendo i semplici passi descritti in questa guida:
come convertire PDF in Immagini
STEP 2. Trasforma immagini in video
Una volta che hai le immagini del PDF salvate in una cartella del tuo PC potrai utilizzarle per creare il video vero e proprio. A tal fine potrai affidarti ad un programma come
FILMORA
.
Ecco una guida su come fare:
Trasformare Immagini in Video con Filmora